elysia has commemorated its 10th anniversary by releasing the Vinyl Allstars, a remarkable run of its complete range of karacter, nvelope, xfilter, and xpressor 500 series modules as distinctive limited editions with visually-stunning front panels hand made from real records.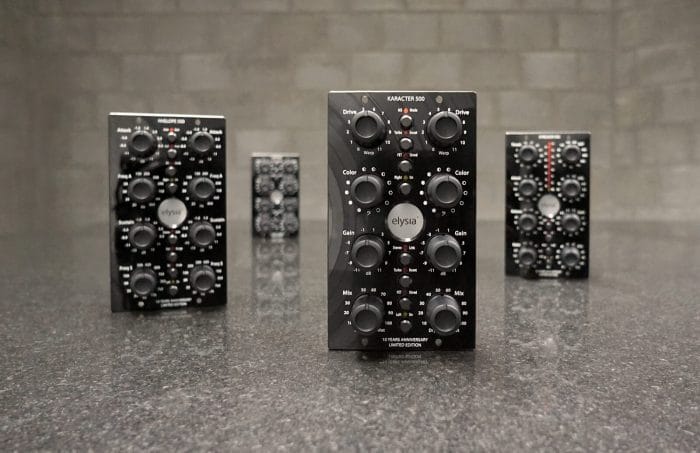 Each individual module features a unique groove pattern based on the individual record from which it was crafted. The vinyl front panels are supported by a sepia-colored layer of acrylic glass, gently emphasizing the vintage vibe of this ultimate analog appearance.

This vinyl/acrylic panel is attached to an additional steel base plate, ensuring the stability of the front panel. The steel base is finished with a black powder coating to prevent oxidation and blend into the color of the record.

Anodized matte black aluminum knobs manufactured exclusively for this limited edition, cream-coloured silkscreen graphics, and a set of included lens head screws matching the coherent look of this special edition add the perfect final touches to the classic vibe of these units.

"These carefully selected materials combine beautifully to create a very individual appearance, rich in audio history", says elysia CEO Dominik Klassen. "And it is our pleasure to be able to thank our supporters for 10 amazing years by offering these luxury editions with no extra charge at all."
The Vinyl Allstars are limited to 50 pieces per module worldwide.
More information: elysia