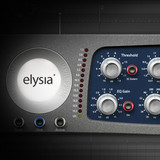 Elysia has released version 1.0.2 of the mpressor plugin, an extremely detailed emulation of the mpressor hardware compressor.
The mpressor plugin is the as close as it can get emulation of our famous creative compressor. Its all discrete circuitry and its special character have been translated into software in all the painstaking details by the specialists from brainworx. The result is an outstanding universal compressor as well as a dynamics effect machine which will significantly enhance the potentials of your sequencer.
Changes in mpressor plugin v1.0.2
RTAS/TDM: fixed control mappings for ICON center section.
VST3/AU: support silence flags.
VST3: fixed preset loading.
VST3: fixed hanging host meters on Windows.
Decorrelated noise floor.
Added TDM version.
The mpressor plugin is available to purchase for PC and Mac (RTAS/VST/AU/TDM) for $440 USD / 290 EUR. The TDM version (also includes native formats) is offered at a 25% introductory discount until 31 January, 2010 (regular price $590 USD / 390 EUR).
More information: Elysia / mpressor plugin