Wide Blue Sound has announced availability of Elysium, a Kontakt instrument library featuring a two-layer synth for creating music infused with tonal rhythms, movement, and unrivalled playability.
Combining tonal rhythms with beautiful sounds, Elysium offers an entirely new way of creating striking percussive pulses, beautiful organic arpeggios, evolving pads, and one-of-a-kind hybrid instruments.
Some of the biggest synths end up being preset synths, with features built for the patch designers instead of the users. Elysium is different.

Enter a galaxy of macro knobs, generators and fun ways to create movement, where even your most basic patches sound more alive than they would in any other synth. Elysium's groundbreaking, critically-acclaimed UI was designed to give you the most power and flexibility possible with the least amount of resistance.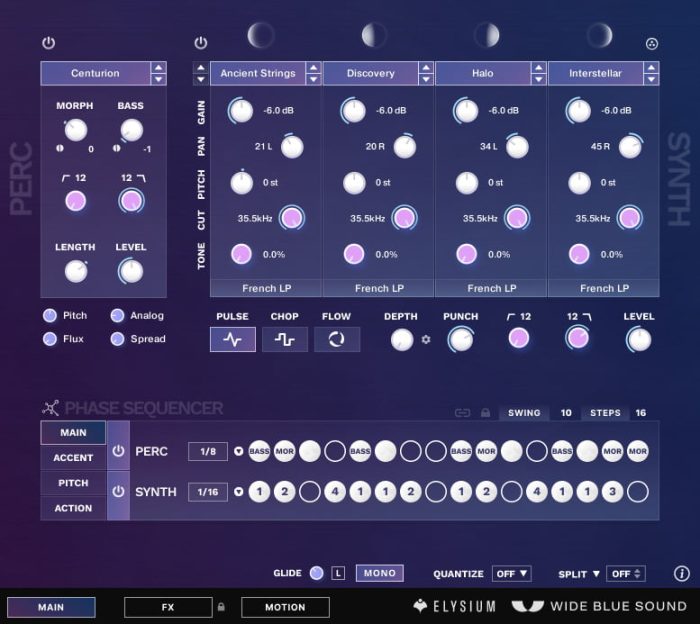 Elysium features
3.54 GB (Compressed).
Hundreds of deep-sampled soundsources.
Perc layer with up to 3 soundsources at once (Main, Morph and Bass)

Multi-mode high-cut and low-cut, Length control.
Perc layer advanced evolution controls (Analog, Flux, Spread).

Synth layer with up to 4 soundsources at once

11 filter types, both traditional, character/saturation filters and bespoke creative filter types.
Synth layer triple engine mode (Pulse, Chop Flow).

Phase Sequencer with up to 16 steps, swing, and per-step Sound Selector, Accents, Pitch, and Action Controls (double/triple hit, and various attack/sustain controls).
Innovative Sound Browser with full-range sound preview, mood and source tags. Cancel button to undo changes.

Generate panel for algorithmically creating mood-based sound selections + new effect chains.

FX section with access to 31 stompboxes, amps, modulation effects, delays, reverbs, 600+ convolution presets, EQ, algorithmic Generate FX chain, and more.
Motion Page with all-new Global Tide, 6 Motion Sequencers with easy access to 130 mod destinations, one-click generate+editing functionality, and more.
Elysium for Kontakt and the free Kontakt Player costs $199 USD.
More information: Wide Blue Sound