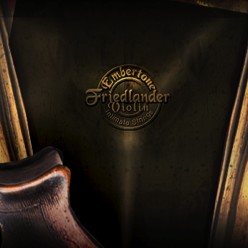 Embertone has announced its upcoming Friedlander Violin Kontakt 5 Player sample library.
We set out to create a virtual violin with malleable, intuitive controls, and an authentic, LIVING sound. From the beginning we wanted control over vibrato and dynamics, so we presented Dovid with an insane, almost athletic challenge: to record more than 3500 samples with musical purpose and a beautiful tone, and all WITHOUT VIBRATO! This gives you your own layer of expressivity… a variety of musical parameters at your fingertips so that you can craft and phrase authentic performances.
Friedlander Violin features
Extensively sampled, living solo violin.
Bow change + slur "true" legato.
Speed-controlled portamentos.
Vibrato control (intensity/speed/color).
Real-time attack control of sustains.
3500+ unique samples.
Scripted speed responsiveness.
Staccatos RR X 8, 4 dynamic layers.
Bow noise control.
Custom-scripted ENSEMBLE mode.
Made for the free Kontakt 5 Player.
The Friedlander Violin is available to pre-order for $110 USD until May 15th, 2013. The pre-order comes with a 20% discount off your next order at Embertone.
More information: Embertone / Friedlander Violin