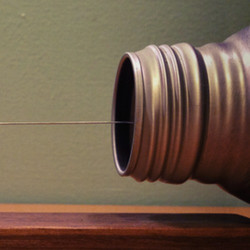 Embertone has announced The Canjo, a virtual instrument library for Native Instruments Kontakt.
A Canjo is a single string musical instrument. It is held like a guitar but may also be played on a table or lap. The neck is made of furniture grade kiln dried hard wood hand rubbed with boiled linen seed oil. On the neck fretted diatonically (like a dulcimer including a 6-1/2 fret) are twelve notes or finger positions.

We couldn't imagine having more fun with a single string! The instrument includes an arpeggiator that will infuse an awesome rhythm into your music. So what are you waiting for, grab this thing while it's hot!
The Canjo features
One String, One Can.
Muted/Fingered/Picked.
Flexible Articulation Control.
Lots of Arpeggiations.
Secret Weapon/Scoring Tool.
So many ambience possibilities.
Full Kontakt 4.2.4+ required.
The Canjo is available to download at no charge.