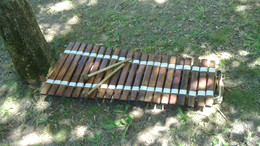 Emiliano Grilli has released a free Balafon SoundFont, a sampled wooden percussion idiophone from West Africa.
A friend of mine lent me a fantastic african instrument: a Balafon. I took the opportunity to sample it and make a soundfont to be used in GNU/Linux with qsynth.

To record it I used my trusty yamaha pockettrack 2G (best buy of 2011), I then cropped the single notes with mhwaveedit and put toghether the soundfont with swami.

The instrument itself is gorgeous, too bad I have to gave him back soon… I only sampled one layer for each note, basically there are three octaves of a C scale from G2 to F5 (I don't know for shure those are the actual pitches, maybe I missed an octave in positioning notes).
The SoundFont is a free download from linuxaudiostudio.
More information: Balafon SoundFont