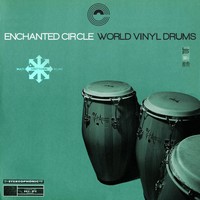 Enchanted Circle Drums has announced the release of the World Vinyl Collection, a collection of all-vinyl ethnic percussion samples.
Designed for rhythmatists and musicians who love the sound of vinyl, this collection brings together a vast array of hand drums and global percussion into one organic and easy-to-use vinyl drum library.
World Vinyl Collection features
7500+ World Vinyl percussion samples (1.3 GB).
Mastered and pressed to vinyl at Dub Studio (UK).
16bit 44.1khz stereo wav files for immediate use in any DAW/sampler.
Extensive Conga, Djembe and Tabla libraries for round-robin and realistic emulation (2300 files).
2100 Vinyl auxiliary percussion samples (shakers, tambourines, claves, bells, claps, guiros, etc.).
900 Vintage vinyl single-shot percussion sounds.
1300 Single-shot assorted vinyl world drums.
170 samples of vintage vinyl crackle and ambiance.
All nicely organized by drum type and model used.
100% royalty free high quality vinyl drum samples.
The World Vinyl Collection costs $39 USD. The Free Vinyl Pack with 100 samples from the collection is available to download at no cost.
More information: Enchanted Circle Drums