Engine DJ, a leading developer of cross-platform DJ software solutions, has announced the availability of Engine OS v1.5. In addition to TIDAL, DJs can now access SoundCloud Go+ and Beatport LINK streaming services directly from the hardware.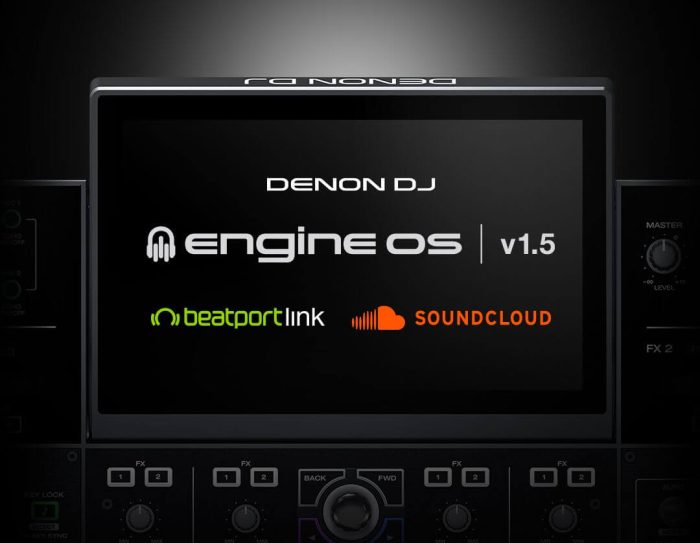 Engine OS v1.5 also adds a new highly accurate BPM detection algorithm, a new Quick Source Menu for faster music source switching, new microphone capabilities for Smart Consoles, as well as a number of additional usability improvements and stability enhancements.
"DJs have never had access to such a vast and diverse array of music on standalone DJ gear," said Jason Stout, Product Marketing Manager for Engine DJ.

He added, "A DJ can literally show up to an event, connect and play virtually any track on the planet without any physical media or computer. It's amazing to see how far we've come from the days of carrying crates of vinyl and books of CDs. We're excited to lead the industry into the next chapter of music medium playback history."
Engine OS v1.5 is available today for users as a free and recommended update.
Highlights of Engine OS v1.5 are as follows:
SoundCloud Go+ Streaming Service
SoundCloud, known as the world's largest and most diverse platform of digital music, brings a unique and personalised experience to Engine OS standalone devices without the need of a computer. Once activated, DJs can access their entire SoundCloud Library including their own tracks, created/liked playlists, albums, liked tracks, play history, followed artists as well as SoundCloud's own curated playlists. SoundCloud Go+ includes both regular (128kb/s MP3) and high quality (256kb/s AAC) playback options. As with all streaming services, performance data such as BPM, Key, Hot Cues, and Loops are saved to the DJ's source drive and instantly recalled the next time the track is loaded.
Beatport Link Streaming Service
Widely known as the 'go to' source for electronic dance music, Beatport LINK gives DJs access to over nine million high quality tracks directly from the hardware – no computer required. Once logged in, users can browse Top 100 playlists, latest tracks by genre, user playlists and Beatport curated playlists. Beatport LINK provides Engine OS BPM and Key information directly, which means that users can see vital track information in the list view when browsing and searching for tracks without having to load/analyse first. Beatport LINK includes both optimised (128kb/s MP3) and advanced (256kb/s AAC) playback options. As with all streaming services, performance data such as BPM, Key, Hot Cues, and Loops are saved to the DJ's source drive and instantly recalled the next time the track is loaded.
Note: Beatport Offline Locker support & Beatsource LINK service will come in future updates.
New BPM Detection Algorithm
Built from the ground up, Engine OS 1.5 features a brand new BPM detection algorithm. The new analysis process is lightning fast and provides highly accurate results. When analysing music on Engine OS devices, users will find both BPM and beat grid downbeat placement are far more accurate than previous versions. Engine OS enabled devices are still the only standalone DJ hardware on the market that offer on-board file analysis.
Note: Tracks will need to be analysed for the first time on a device running Engine OS v1.5 or re-analysed in Engine PRIME v1.5 to utilise the new BPM and downbeat algorithm.
Quick Source Menu
Switching between music sources has never been easier, thanks to the new Quick Source Menu. A user can now enable any subscribed streaming service (TIDAL, SoundCloud Go+, Beatport LINK), connect multiple media devices and easily mix music between the sources in a single session. The Quick Source Menu can be accessed from both the horizontal waveform performance and library view on all Engine OS devices.
In addition, v1.5 brings the following notable enhancements:
Ability to control Microphone Gate Threshold level (PRIME 4)
Ability to record microphones (PRIME 4, PRIME 2, PRIME GO)
Ability to disable crossfader (PRIME GO)
Added Split Cue functionality and the ability to swap Split Cue channels (PRIME GO)
Engine OS v1.5 and the full release notes are available now.
More information: Denon DJ