BOOM Library has announced the release of a new multi-effect plugin designed to bring the most out of your sounds.
EnRage enables musicians and sound designers to mangle, mend, shape, and contort sounds and instruments in thousands of ways to their creative extremes.
Providing a simple yet complex effects matrix, sound devices are dragged and dropped in easy-to-manipulate ways to make profound changes.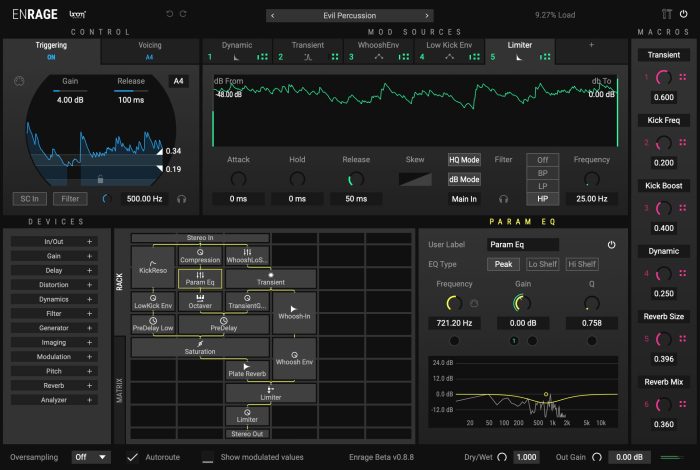 Modulation is provided with unlimited, versatile sources, including ADSR, envelopes, LFOs, and more, as well as six macros that can be assigned and automated to control just about any parameter.
"Enrage is a multi-modular effects plug-in which can do serial or parallel processing or even a combination," says Axel Rohrbach, founder and Creative Director of BOOM Library. "It is blazingly fast and precise, allowing for very accurate results. We wanted to create something that is fun and creative, but at the same time a tool and not a toy. Something where you can quickly stack together some needed chains for a specific task or go all crazy for some weird, mangling effects."
If it all seems like too much, EnRage comes packed with over 200 ready-to-use presets. But the real magic behind EnRage is its speed and resource allocation, enabling you to do complicated effects chains without lagging your system.
"EnRage is fast as thoughts," Italian sound design blogger Mirko Perri says. "It shortens the process between what you have in mind and the result."

Tomislav Zlatic of Bedroom Producers Blog says EnRage is "intuitive, effortless, and incredibly fun to use. At the same time, it is one of the most complex sound design tools in my arsenal."
Available in VST, AU and AAX plugin formats, EnRage is on sale for the introductory price of $279.20 USD / 239.20 EUR (regular $349 USD / 299 EUR). You can try a 7-day trial to test how powerful and easy-to-use this creative new tool is.
More information: BOOM Library