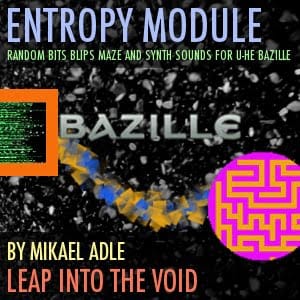 Leap Into The Void has announced Entropy Module, a new soundset for the Bazille hybrid modular synthesizer by u-he.
Bazille Entropy Module.
Sounds of random blips, 8-bits, modular craze and your favourite maze together with finetuned synths, leads, basses, pads and sequences with edge, character, bit possession and the touch of Leap Into The Void.

For electronic music, breaks and spices, game composing, effects, random twist, mysticism and more.

In short, from 1-5:

Symbol S For a closed thermodynamic system, a quantitative measure of the amount of thermal energy not available to do work.
A measure of the disorder or randomness in a closed system.
A measure of the loss of information in a transmitted message.
The tendency for all matter and energy in the universe to evolve toward a state of inert uniformity.
Inevitable and steady deterioration of a system or society.

About half of the soundset focus on the random, module and entropy area, the second half focus on complementing synth sounds and sequences, everything carefully designed and selected to co-excist, inspire and feed creativity.
Entropy Module is available to pre-order at a 40% discount. The expected release is by the end of June, 2016.
More information: Leap Into The Void / Entropy Module