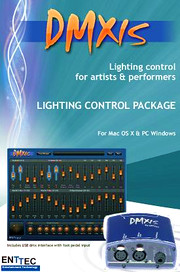 Enttec has released version 1.0.3 of DMXIS, a flexible, easy to use lighting control package, specifically designed for live performers.
DMXIS is the easy way to create exciting live light shows with your Mac OS® orWindows® based computer. DMXIS was designed specifically for live performers who want to run an automated light show while performing on stage. The hardware is incredibly easy to connect up, and the software extremely simple to learn and operate, while being flexible enough to control modern intelligent light fixtures.
Changes in DMXIS v1.0.3
Added "Bank Tempo" control to the Preset Manager page. (See manual page 26)
MIDI Learn now supports 7 & 14 bit NRPN messages. (See manual page 23)
DMXIS now displays all 16 MIDI input channels in Ableton Live. (In the previous release, only MIDI Ch 1 was available). You can switch DMXIS banks/presets by routing Ableton clips containing Notes to Ch 15/16 (as described on page 24)
When the VST/Audio Unit plug-in is loaded or deleted, it does not clear the DMX channel values. The most recent DMX values will be held by the DMXIS hardware until a new preset is explicitly loaded into DMXIS. This allows you to change between songs in your audio host without plunging the audience into darkness!
On the Footswitch Settings window, the "Click & hold time" range can now be set to 0mS. Useful if you are using a footswitch for the "Last Preset (while held)" feature, and want immediate response to the switch being pressed.
Fixtures pop-up menu now uses subcategories within each manufacturer if necessary (i.e. if there are too many fixtures to fit on the screen).
Increased reliability of transmitted DMX data when used with certain low cost fixtures.
Fixed: MIDI assignments cleared with the "Forget" were not being stored on exit.
DMXIS is available at local Enttec dealers for 189 EUR.
More information: Enttec