Epic SoundLab has announced the release of Octacontrol, an 8 points MIDI Transmuter sound design tool for Native Instruments Reaktor, made to control hardware and software MIDI devices, for the creation of complex and shapeshifting sounds.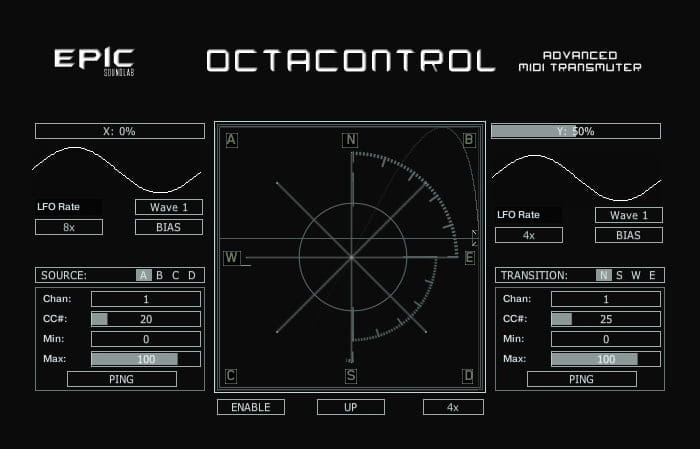 The core function of Octacontrol is to build complex sounds by sending 8 MIDI CC#, each one assigned to a coordinate in an XY plane. Each axis can be controlled both manually (by using the big X and Y sliders) or via a dedicated LFO. Each LFO features 9 hardcoded waveforms that can be modified by the BIAS slider.

The main XY Radar Monitor works as a reference for the current position of both axis and, when the Riser Engine is engaged, as a reference for the pitch bend position. There are two main control groups called SOURCE and TRANSITION. Sources are mapped to the corners of XY plane, while Transitions to the cardinal points.

The Riser Engine is dedicated to build risers and downers by sending Pitch Bend up/down MIDI message. The Pitch Bend range must be configured on the receiving device.
Octacontrol features
8 MIDI CC Layers.
XY Radar Monitor.
Manual Axis Controls.
2 LFOs.
9 Waveforms per LFO.
LFO Bias.
Riser Engine.
Octacontrol is available for purchase for $49 USD. Full version of Native Instruments Reaktor 5.9+ is required.
More information: Epic SoundLab / Octacontrol