Eplex7 DSP has announced the release of Analog Bass Unit N4, a synthesizer plug-in featuring analog circuit emulation technology.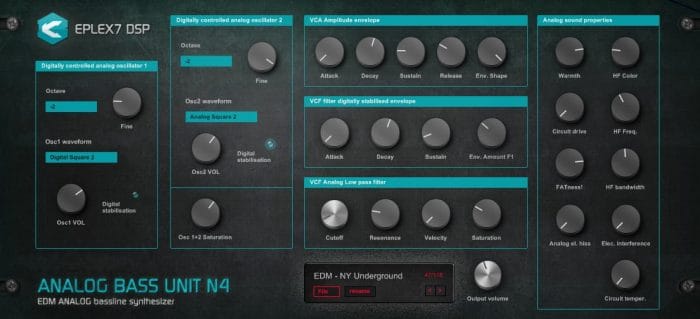 Firstly, we split code / schematic of whole synthesizer into individual virtual modules with own inputs / outputs. Every module act similar like circuit of analog synth. We applied all analog instability emulation to every module – oscillators have analog shape with higher harmonics, oscillators are constantly detuning, they have analog noise, phase instability, filter has its own amplifier producing next analog low level noise as well as analog saturation and interference caused by warming of its circuits.

Envelopes have their own instability, exponential shape, interference and analog noise – envelope is not modulating amp or filter with simple linear signal – this signal has its own virtual analog interference included in modulation signal (noise, hiss, analog artifacts).

You can also shape output sound of Analog Bass Unit – with "Analog sound properties" panel with parameters: Warmth, Circuit drive, FATness!, Analog hiss of all system, Electronic Interference, Circuit temperature, High frequency color…
Analog Bass Unit N4 features
Two analog modeled oscillators also with additional digital waveforms (analog waveforms with higher harmonics, with analog noise, detuning, phasing, instability, circuit warming artifacts) with following shapes: Analog Saw 1, Analog Saw 2, Analog Saw 3, Digital Saw 1 (exp.), Digital Saw 2, Digital Saw 3, Digital Ramp 1, Digital Ramp 2 (exp), Analog Square 1, Analog Square 2, Digital Square 1, Digital Square 2, Sine, Triangle, Noise.
digital stabilization of analog oscillators switch.
Osc 1 + 2 analog style saturation knob.
Exponential analog style VCA amplitude envelope (exponential shape, modulating signal with analog interference, noise, artifacts).
VCF filter digitally stabilized envelope (to avoid clicking and instability with fast basslines).
VCF Analog Low Pass Filter with Saturation knob (Analog filter with true analog liquid tone, circuit interferences, distortion based on input level).
Panel for setting analog sound properties: Warmth knob, Circuit drive knob , FATness! knob, Analog hiss knob for setting up hiss level of all system, Electronic Interference level knob, Circuit temperature level knob, High frequency color knobs…
Preset manager with TOTAL 118 Presets:

38 EDM (Electronic dance music) bassline presets for house, trance, deep house, tech-trance, electro house, electro, ebm, and all dance music styles with 4/4 beat.
55 PSY bassline presets for psytrance, darkpsy, hitech psytrance, psycore, goa trance.
25 Classic long basses – for pop, hip hop, break beat, as subbas in drum and bass / jungle, etc.
Analog Bass Unit N4 for Windows (VST) is available for purchase for the introductory price of 19.90 EUR (regular 29.90 EUR).
More information: Eplex DSP / Analog Bass Unit N4