Eplex7 DSP has announced its latest rompler instrument Cinematic Metal Drums 1, a plugin instrument that can also be used as an expanding library in the free Eplex7 Player or in its other plugin instruments.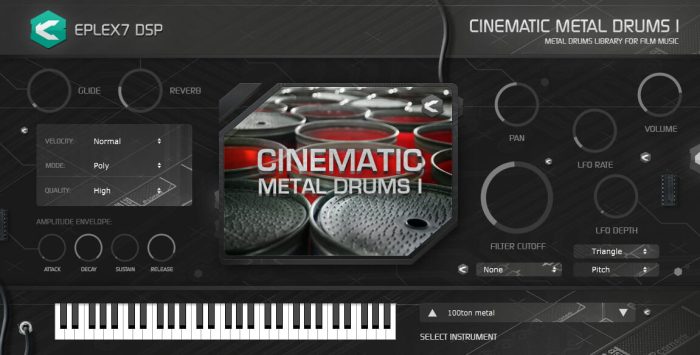 Cinematic Metal Drums 1 is a collection of metal drum banks designed mainly for film music / video game music (horror, dramatic, thriller, sci-fi, futuristic, war, action, fantasy, soundtracks) but can be used also in various styles of electronic music like hitech, hardcore, industrial, dark/experimental, ambient, techno/tekno, or intros/outros of various songs (drum & bass/neurofunk, hardcore, hitech/psycore etc.)

The plug-in / collection includes cinematic metal drums, metallic horror drum hits, dramatic steel drum hits, thriller drums, sci-fi drums, medieval metal drum hits, gongs, factory industrial drums, from heavy fat metal sounds to sharper treble hits.
Cinematic Metal Drums 1 for Windows and Mac (VST/AU) is on sale for the intro price of 5.90 EUR. The regular price is 7.90 EUR.
Eplex7 DSP has also announced a special deal with up to 50% off on selected VST instrument plugins and effects, including Psytrance EFX Pro, Quantakor, Psy Speaking Synths 1, Hitech SFX1, Spherum FX, Particle Collider SX7 and Aelexis.
This offer expires March 15th, 2019.
More information: Eplex7 DSP