Eplex7 DSP has announced the release of its new Psytrance EFX Pro plugin, a rompler instrument designed for Psytrance, Darkpsy, Hitech, Psycore, Progressive, Goatrance, and Fullon Psytrance producers.
The instrument comes with 128 multi-sampled instruments.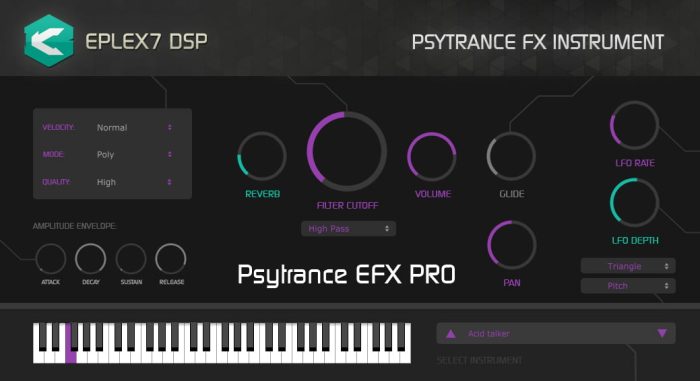 Psytrance EFX PRO is modern plug-in instrument for MAC & Windows / VSTi / AU / Mac VST, x32/x64bit and include multi-octaved / multi-sampled sounds, waveforms and synths which sounds perfect in wide range of tones / octaves. Many of internal sounds were generated by special innovative synthesis techniques, unique post processing (with used our own unreleased plug-in prototypes) and digital/hardware synthesizers.

All sounds can be modified by internal parameters like LFO rate/depth (Triangle, Sinus, Saw, Square, Exponent) with Pitch, Expression and Pan modulation. Low pass / High pass filter with cutoff, Reverb/Space, Amplitude envelope, Pan. You can play in various modes: polyphonic, Monophonic or Legato with Glide function.

Psytrance EFX include wide range of psychedelic sounds: psytrance uplifters / downlifters, psytrance bombs / explosions, speaking synthesizers, spirals, twisters, mysterious drones, psychedelic pads, evolving wavetable leads, acid sounds, sharp acid leads, intro / outro effects, mysterious shamanic drums / hits, blips, psytrance lasers, glitch sounds, trippy fm synths, sci-fi fx and much more.
Psytrance EFX Pro is on sale for the intro price of 19.90 EUR (regular 38 EUR), or 27 Eplex7 DSP credits.
More information: Eplex7 DSP