Eplex7 DSP has announced the release of Psytrance SFX bombs 1, a virtual instrument for Windows and macOS that can also be used as an expansion library in the free Eplex7 Player or other Eplex7 DSP plugin instruments.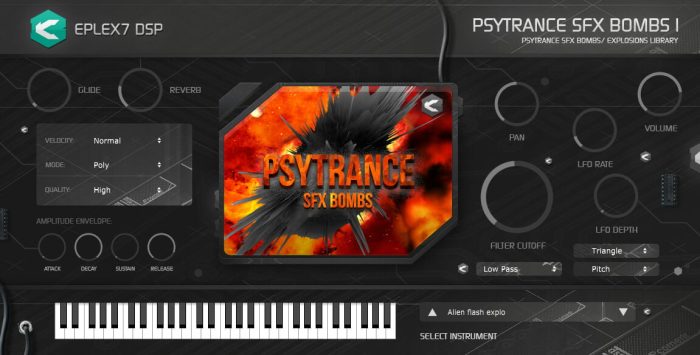 Psytrance SFX bombs 1 includes multibanks / instruments with psychedelic sound effects like bombs, hits and explosions designed mainly for psytrance, hitech, darkpsy, psycore, fullon psytrance, progressive psytrance, goatrance as well as almost all electronic music styles to name a few: drum and bass, hardcore, techno, trance, rave, electro house, dubstep, film music and many other genres.

Plug-in / Collection includes 10 multi octave banks with bombs, explosions, hits, sci-fi explosions etc.
Psytrance SFX bombs 1 features
Instrument plugin for Mac and Windows (VST/VST3/AU).
Low pass / High Pass filter with cutoff.
High quality sound engine, disk streaming technology (saving RAM memory and very low CPU consumption).
LFO with rate/depth (Triangle, Sinus, Saw, Square, Exponent) with Pitch, Expression and Pan modulation – Fast preset / sounds browser with menu / arrows.
Reverb/Space.
Glide function (Legato mode), Mono mode and Polyphonic mode.
Pan knob.
Amplitude envelope (Attack, Decay, Sustain, Release) – Velocity mode selector.
The plugin is available for the intro price of 5.90 EUR for a limited time (regular 7.90 EUR).
More information: Eplex DSP