ROLI has released Equator, a software synthesizer instrument built for MIDI Polyphonic Expression.
The synth introduces multidimensionally textured sounds and an array of advanced but easy-to-navigate sound design tools, so you can breathe more expression into any project.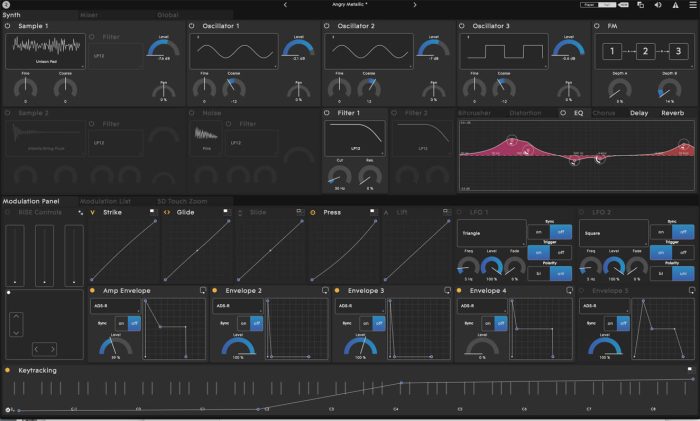 Launched in 2015, Equator is built for MIDI Polyphonic Expression (MPE). Each of its hundreds of sounds are designed to be richly textured. Pitch, timbre, and other sound parameters respond in real time to subtle variations of movement on a playing surface. When paired with an MPE-enabled controller like Seaboard Block, Equator can be a pathway to music that is more expressive because of the variety of sounds and also because of on-the-fly modulations that are possible at every moment of music creation.

Equator Player, a version of Equator that includes much of the Equator sound library and select macros, is now bundled with every Seaboard Block and Lightpad Block in the ROLI BLOCKS system.

Built with a hybrid synthesis engine, Equator includes sounds, effects, and modulation functions. Over 400 sounds range from melodious flutes to droning synths. Wavetable oscillators, multimode filters, frequency modulation, and sample playback are some of the features available for designing sounds and fine-tuning music projects. Equator allows individual modulation of Strike, Press, Glide, Slide, and Lift — movements that can be assigned to any musical parameter.

Equator is available as a standalone application and a VST/AU plugin. While optimized for polyphonic expressive instruments such as Seaboards, it works with a range of hardware and software instruments. Its sounds remain precise when controlled by MIDI controllers with minimal or no MPE compatibility.
Equator features
400+ Presets.
3 Oscillators with 40+ waveforms.
2 sample banks with over 50+ factory sample instruments.
1 noise generator with multiple waveforms.
1 configurable FM module.
6 Custom built effects.
Flexible Routing Matrix.
5 multi-mode Filter Modules.
2 multi-waveform LFOs.
5 multi-mode Envelopes.
4 multi-mode and multi-node keytracking sources.
4 adjustable curves per dimension of touch.
8 Macro Controls.
Playlist Manager.
Online library of presets and playlists.
Deep integration with ROLI Hardware.
VST and AU Support, plus standalone application.
Equator is available for purchase for 179 EUR. An upgrade from Equator Player is available to Lightpad Block and Seaboard Block owners for 79 EUR.