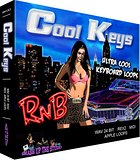 Equinox Sounds has released Cool Keys RnB, a downloadable loop collection from its content partner, Smash Up The Studio.
This is the definitive collection of R'n'B keyboard loops. Ultra cool and contemporary, these riffs are the real deal! Piano's, synth's, strings, midi guitars, rhodes, all the ingredients needed to give your mix real quality and authenticity.
Cool Keys RnB features
More than 50 amazing 4 bar progressions of the highest quality, all highly useable and desirable. In fact, each loop could form the basic structure for an entire track. This collection represents fantastic value.
Professionally recorded in 24 bit audio and performed by top session keyboardist Steve Burton. Also comes with MIDI files for complete versatility.
From 65-100bpm, this collection covers the classic sounds and styles of RnB and ranges from beautiful piano ballads to Icy cool street vibes.
Formats: Apple Loops, MIDI, REX2, WAV (24-bit)
Cool Keys RnB is available as a download for $29.95 USD.
Visit the Equinox Sounds online webstore for more information and audio demos.