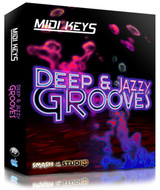 Equinox Sounds has released MIDI Keys: Deep Jazzy House Grooves, a collection of superb chords, groovin' bass lines, lead melodies and solos by Smash Up The Studio.
'MIDI Keys: Deep Jazzy House Grooves' contains probably some of the best keyboard work available as MIDI today. In fact, work of this standard is usually reserved for high profile producers with endless budgets and the ability to hire the best musicians available.
MIDI Keys: Deep Jazzy House Grooves features
50 MIDI keyboard loops, perfect for synthesizer, rhodes, pads, strings etc. These loops range from funky more syncopated deep house riffs to chilled jazzy grooves in the style of Fender Rhodes or loops ideal for synthesizer pads. All contain great chord progressions and each loop could easily form the musical structure for an entire mix.
20 MIDI bass loops performed in the style of the very latest deep house tracks.
20 MIDI lead lines, memorable melodies great for lead synths, plus 2 amazing 16 bar Moog solos.
5 MIDI construction kits.
All of the loops in this collection were originally recorded at 125 BPM and range in length between 2 and 16 bars. However with MIDI the editing possibilities are endless.
All content is royalty free.
MIDI Keys: Deep Jazzy House Grooves is available to purchase for $29.95 USD.
More information: Equinox Sounds