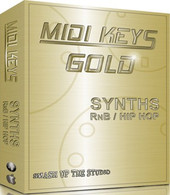 Equinox Sounds has announced the release of MIDI Keys Gold: Synths RnB & Hip Hop, a collection of RnB & Hip Hop synth progressions in MIDI format by Smash Up The Studio.
Smash Up The Studio lets you be the producer with this hot new MIDI Loop Pack. All the loops are played and programmed to perfection, all you need to do is pick a cool sound! And of course, with MIDI, you have full editing capabilities to really put your own stamp on it.
MIDI Keys Gold: Synths RnB & Hip Hop features
More than 50 MIDI loops including classic bendy Moog style riffs, wicked flavours and cool chord progressions perfect for strings, pads, piano's etc…
Performed by Steve Burton exclusively for Smash Up The Studio. You can hear Steve Burtons keyboard work on many great RnB mixes, by artists such as Janet Jackson, Babyface, Jodeci, Sounds Of Blackness, B.M.U, Destiny's Child, Lemar, to name a few.
MIDI loops range between 4 and 8 bars in length and each file comes labelled with the original tempo when recorded.
MIDI Keys Gold: Synths RnB & Hip Hop is available as a download for $29.95 USD.
More information: Equinox Sounds / MIDI Keys Gold: Synths RnB & Hip Hop