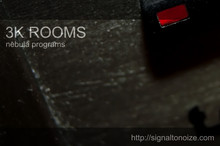 Eric Beam has released 3k ROOMS, a collection of reverb programs for Acustica Audio Nebula.
Goal = capture Nebula Room programs from the 3000 reverb.

A continually growing collection of Factory & User defined programs. (Check for newly added programs). The hardware 3k is arguably the most realistic "room simulator" on the market hands-down.
3k ROOMS currently includes four programs:
Wooden
Vocal Doubler
Small Perc
Small Natural
The 3k ROOMS programs are available to purchase at $3 USD each.
More information: Signal To Noize