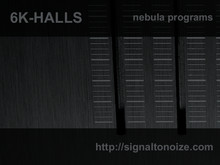 Eric Beam has released 6k Halls, a collection of reverb programs for Acustica Audio Nebula.
Goal = capture Nebula hall programs from the flagship studio standard 6000 reverb. A continually growing collection of Factory & User defined programs. (Check for newly added programs).
6k Halls programs
6K-HALLS-AMBIENT-HALL (69MB)
6K-HALLS-EXPO-HALL (161MB)
6K-HALLS-LARGE-WARM-HALL (121MB)
6K-HALLS-LARGE (127MB)
6K-HALLS-NICE-HALL (100MB)
6K-HALLS-SMALL-DENCE-HALL (69MB)
6K-HALLS-SPACE (137MB)
6K-HALLS-STEREO LARGE HALL (121MB)
6K-HALLS-VOCAL HALL (112MB)
6K-HALLS-WOOD HALL (87MB)
The 6k Halls programs for Nebula are available to purchase for $3 USD each.
More information: Signal To Noize