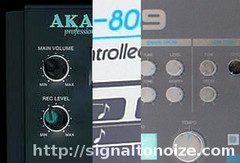 Eric Beam has released AKA809, a free drum sample set featuring a collection of TR drum machine sounds recorded on an Akai S20 Stereo Phrase Sampler.
What is this all about your wondering? Well it's all about LoFi AKAI chunk. There is just something about the AKAI Sampling & hardware down-sampling process that sounds damn cool. These are drum hit samples of the two notorious TR Rhythm Composers via an AKAI S20.

Sampled @ the S20s native rate of 16bit/32khz, then internally down-sampled to 16khz & recaptured @ 24bit/96khz via Lynx converters. HiFi LoFi :)

Format = mono 24/96 .wav
The AKA809 Drum Sample Set is available to download as donationware.
More information: Signal To Noize