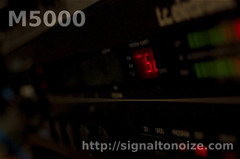 Eric Beam has released the M5000 Impulse set, a collection of impulse response samples from a TC Electronic M5000 Digital Audio Mainframe model.
M5000 Impulse set features
Model = T.C. M5000
Impulse capture method = Sweep
I/O = Digital
Format = 24bit 48k WAV
96 impulse files including m5000 only algorithm captures.
Program categories = Ambience, Nonlin-1, Revcore1, Revcore2, Reverb-1, Reverb-3, Reverb-3, tapfac-1.
The M5000 Impulse set is available to download as donationware.
More information: Signal To Noize