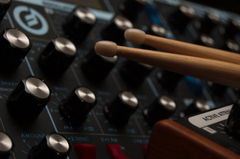 Eric Beam has released Moog Drum One, a free drum rack for Ableton Live's Simpler.
The Minimoog Voyager RME is an analog waveform sculpting masterpiece, especially with add-on the CV breakouts. Unlike many classic analog drum machines, the Voyager with its dual filters can create wonderful stereo imagery. I've taken the time to program detailed percussive patches & from these i'm creating sample sets. This is the 1st "Moog Drum One" Drum Rack for Ableton Live 8.

Captured @ 24bit/96k with Lynx converters & DBX 903 compression.

Analog Signal path = Moog Voyager-DBX 903's-Console EQ-Dominator II- Lynx.
Visit the Signaltonoize blog for more information and a link to download the Moog Drum One drum rack.