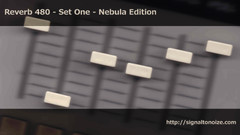 Eric Beam has released Reverb 480, a collection of programs for Acustica Audio Nebula.
Goal = capture Nebula programs from the 480 reverb.

The 480 is no-doubt the most coveted & widely used reverb in the industry. The reverb most others are judged by.
Reverb 480 for Nebula features
A continually growing collection of Factory & User defined programs. Currently available:

480 Fat Plate
480 Thin Plate
480 Large Hall
480 Med Hall
480 Med Room
480 Sm Wd Room

Captured via the LFI-10 @ maximum samplerate & 24bit word-length.
The Reverb 480 for Nebula programs are available to purchase for $3 USD each.
More information: Signal To Noize