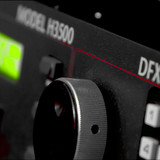 Eric Beam has released Reverb H35K, a collection of H3500 reverb programs for Nebula by Acustica Audio.
Reverb H35K features
A continually growing collection of Factory & User defined programs from the hardware 3500 reverb.
Captured via Lynx conversion @ 24/48k.
Programs: AMBIENCE, BRIGHT ROOM, CANYON, DARK ROOM, GUITAR ROOM, ROOM OF DOOM, SNARE, TIDE VERB.
The Reverb H35K Nebula programs are available to purchase for $3 USD each.
More information: Eric Beam