At the Superbooth 23 show, Erica Synths has introduced some new products, including the Steampipe true physical modelling synthesizer developed with Dutch company 112.dB.
The Steampipe has no conventional oscillators — instead, it mimics the way sound is created in wind instruments and it is fine-tuned to create a wide range of sounds: everything from wind instruments, to strings, pipe organs, crazy effects and beyond. The Steampipe has three major sections: STEAM, PIPE and REVERBERATOR.

The STEAM section may be compared to the lungs and mouth of a musician. The generator creates the flow of air or "steam", the envelope in this section determines the force with which it is blown out. DC/noise is the sound that emanates when blowing out. DC/Noise on the Steampipe can also be replaced with an external audio source.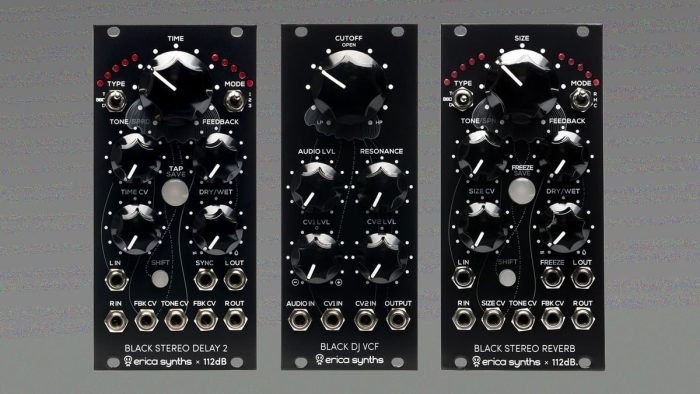 Other new products announced are the Black Stereo Reverb and Black Stereo Delay 2, two modules that can significantly expand the FX palette of any modular system. Instead of using a generic multi-FX approach, Erica Synths decided to develop dedicated modules with extended controls over the most important parameters to deliver FX design powerhouses. The modules run on new Erica Synths DSP hardware, and the effects have also been developed in collaboration with 112.dB.
Lastly, the Black DJ VCF is a fully-analog voltage controlled filter similar to those found on the DJ decks. The VCF is fully open with the cutoff knob at 12:00. When turned counterclockwise the lowpass VCF takes effect, when turned clockwise highpass filtering is applied. Add the resonance on top and control the DJ VCF with external CV and you experience one of the most unconventional timbre modulation effects around.
More information: Erica Synths