Erica Synths has announced Black Dual VCF, a dual multimode filter with CV control over cutoff and resonance for serious modular patches.
Produced in Erica Synths' hometown Riga, Latvia, the custom AS3320 multimode VCF chip offers a highly stable core.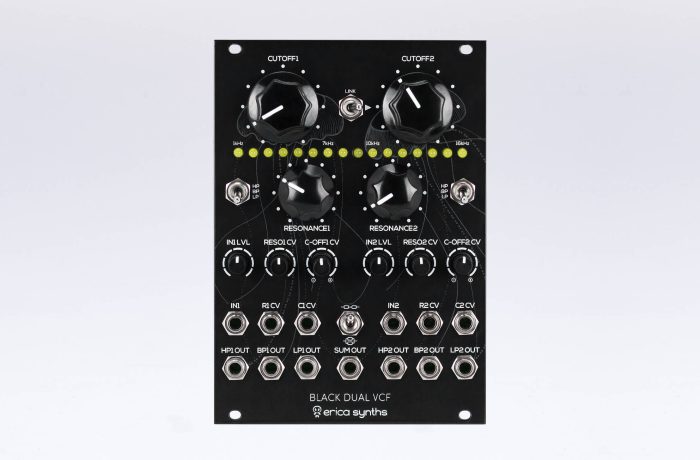 It can be used as two independent VCFs with simultaneous HP, BP and LP outputs, controls can be linked for stereo application and both VCFs can be chained in series or parallel to the summing output for ultimate modulations.

Bonus feature – 16 band spectrum analyser – gives visual feedback on what happens on summing output.
Black Dual VCF features
Two identical multimode VCFs.
Simultaneous HP, BP and LP outputs.
Summing output.
CV control over Cutoff and Resonance.
CV level attenuverters.
Link switch for controlling both VCFs with one cutoff or resonance knob.
16 band spectrum analyser.
Skiff-friendly design.
The Black Dual VCF Eurorack module is available for 350 EUR, ex. VAT for EU customers and shipping.
Also released is the Pico T→G, a module that converts triggers to gates using smart algorithms that enhances your musical compositions and rhythm patterns.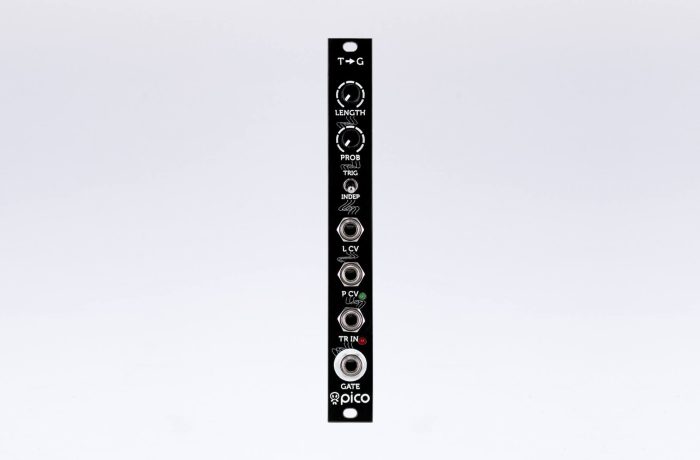 The module can turn a simple trigger sequencer into powerful musical pattern generator. The module was created inspired by Ryoji Ikeda compositions.

With Pico Series we challenged ourselves – can we make ANY superior functionality synth module 3HP wide and affordable? Yes, we can.
Pico Trigger to Gate features
Manually and CV controlled gate length.
Manually and CV controlled gate skipping probability.
Triggered and Independent modes.
Incoming trigger in and output gate control LEDs.
The Pico T→G module is 90 EUR ex. VAT and shipping.
More information: Erica Synths