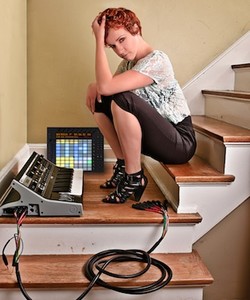 Ableton artist, singer-songwriter, producer, multi-instrumentalist, and nationally touring artist Erin Barra will be discussing and demonstrating the new Ableton Push instrument at Tekserve, on July 18th.
Join us for an evening hosted by Ableton's Huston Singletary and Tekserve, as they discuss Push and Live 9 with Erin Barra along with revealing tips and tricks of Push, Max for Live and Suite 9.

Giveaways sponsored by Ableton, Tekserve and Moog. A Q&A and after party will follow the event.

The event will be webcast globally via Livestream on http://erinbarra.com/
The event takes place at Tekserve (119 West 23rd Street, NYC) on Thursday, July 18th, 7pm.
Download Erin Barra's latest mixtape, Comma at Bandcamp.
More information: Erin Barra