ESI has announced two new audio interfaces at the NAMM 2020 Show.
Marking the start of ESI's series of high-end interfaces, the GIGAPORT eX is a professional 24-bit/192kHz USB-C interface with 8 analog outputs.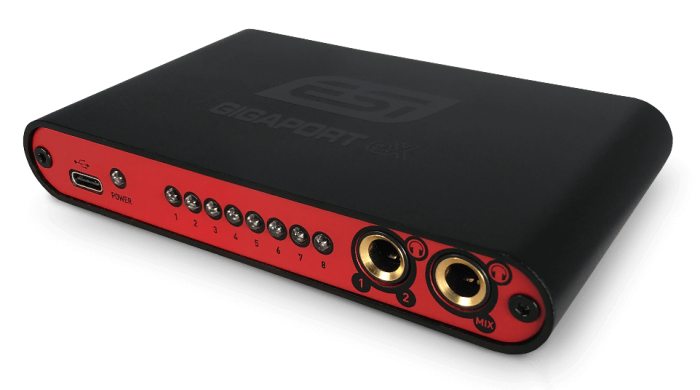 With 8 separate outputs, a compact size of 12 cm x 7 cm x 2 cm and a resolution of 24-bit / 192 kHz, this portable device forms the basis for playing powerful bass and filigree treble on countless systems. There is no need to compromise: Even when all 8 channels are in use, the output quality remains at 24-bit/192kHz on every single output. GIGAPORT eX offers outstanding audio quality with excellent localization of the individual signals.
The device is PC compatible (with the trusted drivers from ESI) as well as Mac, iOs or iPadOs compatible. ESI's new 3.1 USB audio interface is bus-powered via the USB-C port.
GIGAPORT eX is suitable as a complete source for 7.1 surround setups. All eight outputs can be controlled independently. This makes this interface ideal for use in film or multimedia applications.
For DJs, Gigaport eX offers many possibilities and additional comfort due to the multitude of connections. For example, several stereo outputs can be used simultaneously to output different mixes, subgroups or effects in parallel. The headphone outputs can also be used to listen to certain signals in advance: While the first output sends out the signals from playback channel 1 and 2, the second one sends out a mixed signal of all playback channels.
Also included is a license for Stanton's Deckadance LE v2 DJ software.
The red design of the new compact series is a statement: All ESI products launched after 2020 in red/black are characterized by particularly high audio quality in 192 kHz.
"We have developed a premium series of compact devices that can still be offered at a very favorable price," says ESI CEO Claus Riethmüller.
GIGAPORT eX succeeds the GIGAPORT HD+, which is in stores at a reduced price while stocks last.
Also announced is the UGM192 ultra mobile guitar and microphone 24-bit/192kHz USB audio adapter.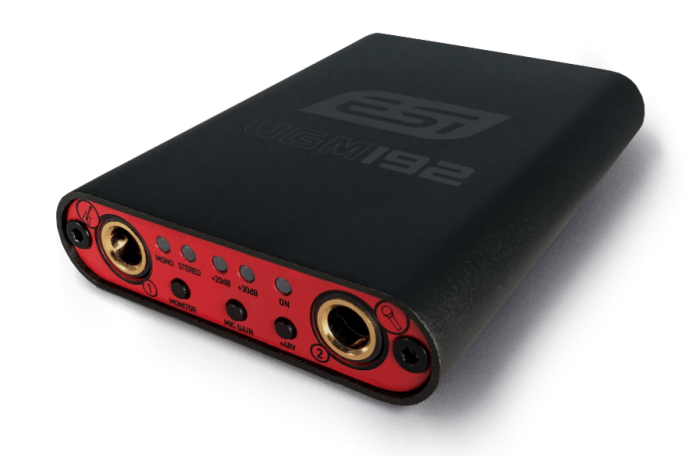 UGM196 is half the size of a smartphone and as lightweight as a bar of chocolate, making it the perfect device for recording on the go.
Recording guitar riffs or vocals on the go? That's possible with the new UGM192 from ESI. The ultra-compact interface with 24-bit/192 kHz/114dB audio quality can be connected to a PC or Mac, as well as to any smartphone or tablet with USB audio support. There are no creative boundaries!
UGM192 features two analog jack inputs that allow you to easily connect an electric guitar and microphone. A switchable +48V phantom power is located on the front of the unit so you can use both dynamic microphones and condenser microphones.
Both recorded signals can be listened to directly via the headphone input on the rear panel and thus can be processed in real time, allowing monitoring with zero latency.
UGM192 features
USB 3.1 audio interface with USB-C connector (cable included).
USB 2.0 compatible (cable included).
USB bus powered.
Separate power connector for optional use (microUSB).
Professional microphone preamp, balanced 1/4″ TRS connector with switchable 48V phantom power support.
Professional Hi-Z instrument input, unbalanced 1/4″ TS connector.
100% class compliant.
UGM196 will be available for less than 130 EUR.
More information: ESI