The Espresso Book Machine is an ATM for books that prints and binds any title on the spot within minutes from a digital file.
The first Espresso Book Machine was installed and demonstrated at the New York Public Library's Science, Industry, and Business Library.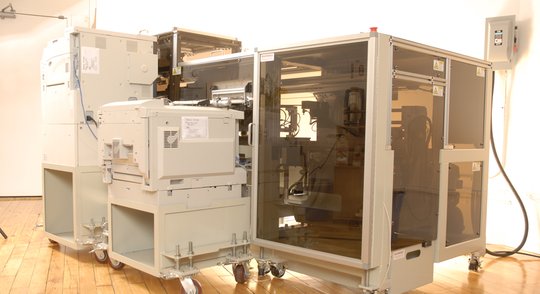 Jason Epstein (founder of On Demand Books, LLC) says:
Printed books are one of history's greatest and most enduring inventions, and after centuries, their form needs no improvement, what does need to change is the outdated way that books reach readers."
Library users will have the opportunity to print free copies of such public domain classics as "The Adventures of Tom Sawyer" by Mark Twain, "Moby Dick" by Herman Melville, "A Christmas Carol" by Charles Dickens and "Songs of Innocence" by William Blake, as well as appropriately themed in-copyright titles as Chris Anderson's "The Long Tail" and Jason Epstein's own "Book Business."
The public domain titles were provided by the Open Content Alliance ("OCA"), a non-profit organization with a database of over 200,000 titles. The OCA and ODB are working closely to offer this digital content free of charge to libraries across the country. Both organizations have received partial funding from the Alfred P. Sloan Foundation.
Sounds like a great idea, but what about the cost of paper?
Link via The New Reader