Audio Plugin Deals has launched a sale on Etherealwinds Harp II, offering a 75% discount on Versilian Studios' virtual harp for Native Instruments Kontakt.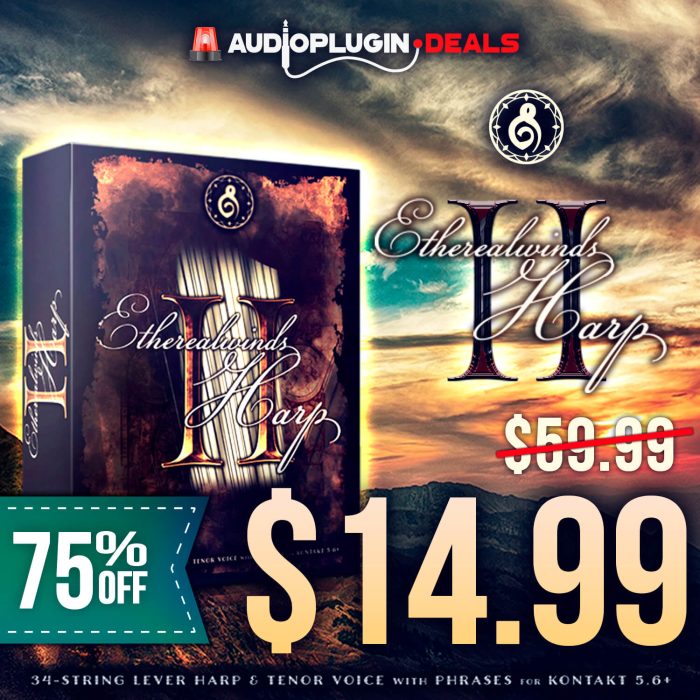 Etherealwinds Harp II contains a full range of articulations including standard and stopped plucks, pres de la table, muted plucks, glisses, and tons of extended techniques, all sampled chromatically on a new 34-string lever harp with a gorgeous tone at up to 4 round robins and 3 velocity layers in full 48/24 quality.

In addition to the harp, a full chromatically sampled vocal library with two octaves of common syllables and 240 individual phrases is also included! A grand total of 3,200 samples.
Etherealwinds Harp II features
34-string lever harp performed by harpist Etherealwinds.
Chromatically sampled at up to 3 velocity layers and 4 round robins in full 48/24 quality; 3,200 samples in total.
Includes normal plucks, pres de la table, muted plucks, pre-recorded glissandi, and effects, with natural hand-muting available.
A variety of custom snapshots, from concert halls to surreal worlds.
Bonus Content: Chromatically sampled two-octave tenor voice, plus 240 individual vocal phrases.
Normally valued at $59.99 USD, Etherealwinds Harp II is now offered for just $14.99 USD until May 23rd, 2018. Requires Kontakt 5.6.8 or higher, full version.
The full purchase amount will also be instantly added to your Rewards Wallet which you can use for any product in The Shop.
More information: Audio Plugin Deals