Eventide has announced Blackhole and H3000 Factory Ultra-Harmonizer, two new native effect plug-ins for Windows and Mac.
The H3000 Factory Ultra-Harmonizer native plug-in is a powerful harmony plug-in that gives you the sound of Eventide's Mod Factory 1 and 2, as well as their Patch Factory algorithms from the venerable H3000 D/SE. It includes all original presets, plus many new ones, including presets by Richard Devine.
H3000 Factory Ultra-Harmonizer features
The sound of the H3000D/SE rack processor in a native plug-in format.
Eventide's Mod Factory 1, Mod Factory 2, and Patch Factory algorithms built in.
Includes all original presets, plus new presets from Richard Devine.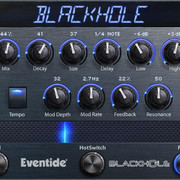 The Blackhole plug-in is based on Eventide's Space Blackhole effects pedal. It offers a wide range of musical delay effects that you can use on a variety of sources.
Blackhole features
Delay and spacial effects plug-in based on the Space Blackhole guitar effects pedal.
Offers a variety of creative delay and modulation effects.
Three different footswitch style toggles let you bypass, kill, and freeze the effect.
The H3000 and Blackhole plug-ins for Windows and Mac (VST/AU/AAX) are scheduled for release in March, and will be available to purchase at an introductory price of $149 USD and $99 USD respectively (50% off regular).
More information: Eventide