Plugin Boutique has announced the Eventide Labor Day Sale, offering discounts of up to 88% off on a selection of Eventide's creative and precise plugins, including Physion, UltraReverb, Octavox and more.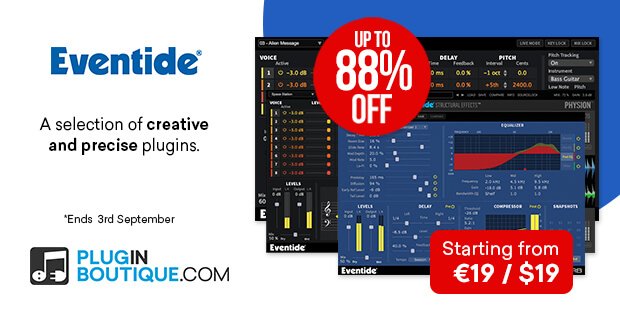 The 'Eventide Sound' consists of pristine delay, lush reverbs, and pitch shifting effects that can be heard on countless hit records. Their sound quality keeps the industry listening for what's next.
The following plugins are included in this promotion:
Octavox is a unique time-based diatonic harmonizer that takes any incoming tones—even drums—and outputs up to eight voices based on the chosen key and timing interval.
Quadravox is a unique composition tool designed to inspire songwriting, stack harmonies, widen instruments and offers creative innovative rhythmic sequences.
Physion allows you to split a sound into its transient and tonal parts, independently manipulate them using Eventide's world-class effects and then fuse them back together.
UltraReverb comes packed with over 300 killer presets and features reverbs from the H8000, compression, EQ and delay integrated.
UltraChannel, a high-precision channel strip that includes several feature-packed versions of Eventide's legendary effects, all in one plugin.
Precision Time Align, a high precision sub-sample delay that can slide a track forward or backwards in time.
The offer expires September 3rd, 2019.
More information: Eventide