Eventide has announced the release of SpaceTime, a new modulation/delay/reverb algorithm for the H9 Core, H9, and H9 MAX stompboxes.
Artists worldwide rely on the H9 for its signature delay, modulation, pitch and reverb effects and SpaceTime is further evidence of Eventide's ongoing commitment to provide innovative, high quality effects to help spark creativity and expand your sonic horizons.

SpaceTime features:

Twin Delays with controls for level and feedback
Modulation with controls for amount and rate
Reverb with controls for decay, level and color
23 Presets

SpaceTime allows you to control the way these three custom-built effects interact with each other. It's like having 3 stompboxes in one.
SpaceTime is available as an in-app purchase in H9 Control for H9 standard and H9 Core owners, priced at $20 USD. It is free for H9 Max owners.
Eventide has also announced that its Octavox harmonizing effect from the Anthology X bundle is now available separately.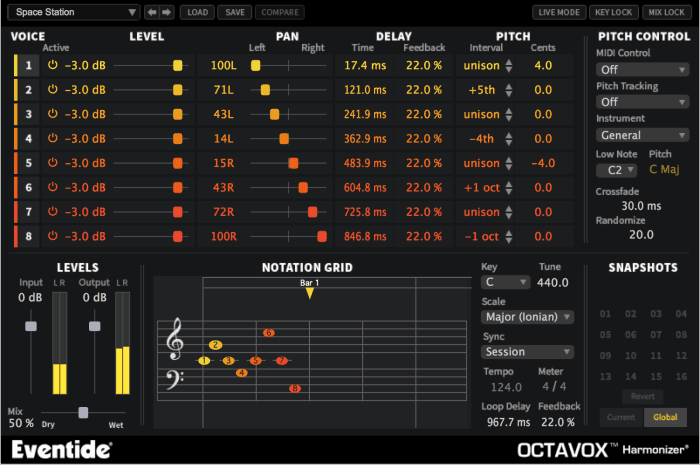 Octavox, one of the crown jewels from our flagship plug-in bundle, Anthology X, will now be offered separately for the first time in Native AAX, AU, and VST formats.

Octavox is a unique time-based diatonic harmonizing effect that allows you to stack harmonies, widen instruments, and create innovative rhythmic sequences with ease. This new version is equipped with expanded MIDI functionality. Now each voice interval can be set via MIDI note so you can PLAY IT LIVE!

Octavox features over 70 presets optimized for a variety of instruments, including drums. It's the ultimate tool for creating inspiring new harmonies and rhythmic melodies.
Octavox features
8-voice diatonic pitch shifter based on technology from Eventide's flagship H8000 effects processor.
Independent manipulation of key, timing, panning, delay, detune, and feedback for each voice.
Notation Grid presents pitches on a traditional music staff with a quantized grid for a musical programming experience.
Pitch-tracking 'off' mode allows it to shine on polyphonic and rhythmic sounds.
Updated and expanded MIDI functionality so that each voice interval can be set via MIDI note making it easy to use in live performance to manipulate incoming signals.
Over 70 presets optimized for a variety of instruments.
Innovative MixLock function allows you to quickly audition presets while keeping the wet/dry mix level static.
Octavox is available for purchase for the introductory price of $99 USD until February 29th, 2016 (MSRP $199 USD).
More information: Eventide