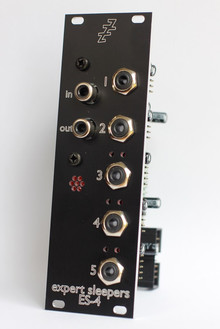 Expert Sleepers has announced two new additions to their range of Eurorack format synth modules, the ES-4 S/PDIF / CV Interface and the ES-4 Gate Expander.
The ES-4 converts a standard S/PDIF input into five channels of control voltage.
Two of the five channels are calibrated to provide over 5 octaves of 1V/octave pitch CV. In conjunction with the supplied software, this gives the ES-4 the functionality of a traditional two channel MIDI/CV converter, but with sample accurate timing, something USB-based interfaces can only dream of.

The remaining three channels are general purpose outputs (for use as e.g. gates, envelopes, LFOs) and each have a nominal range of 0-10V or ±5V (user selectable).

The ES-4 will connect to any audio device using the S/PDIF standard. This includes the digital audio output provided as standard on all recent Macs.
The ES-4 Gate Expander is a Eurorack module which works in tandem with the ES-4 to offer 8 on/off outputs for use as gates, triggers, clocks etc.
Up to five ES-4 Gate Expanders can be attached to one ES-4 – one per ES-4 channel. (The 8 outputs of the Gate Expander reflect the 8 bits of CV information passed to the ES-4's DACs.)

Therefore you can combine the modules to create a system with up to 40 independent gate outputs – all driven from a single S/PDIF connection.
The ES-4 Software also provides the ability to use each Gate Expander output as a MIDI port. This allows the user to generate sample accurate, jitter-free MIDI, without any of the timing problems that plague traditional MIDI interfaces (famously described by Vince Clarke of Erasure).
The ES-4 is available to purchase for MSRP £151 GBP; The ES-4 Gate Expander is £64 GPB. Prices excl. VAT.
More information: Expert Sleepers / ES-4