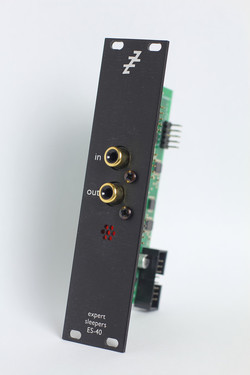 Expert Sleepers has announced the release of three new Eurorack synth modules.
The Expert Sleepers range of modules (including the ES-3 Lightpipe/CV Interface, offering ADAT connectivity instead of the ES-40's S/PDIF) offers a highly configurable range of computer/synthesizer interfacing solutions, supported not only by Expert Sleepers own Silent Way software but increasingly used in conjunction with e.g. Max/MSP or NI's Reaktor.

Because the modules connect over an audio interface, rather than say USB or Ethernet, they are able to offer rock solid timing and deep integration with standard audio environments.
New Expert Sleepers Eurorack modules
The ES-40 SPDIF Interface (£94.80) converts a standard S/PDIF input to five channels of expansion headers, which are used in conjunction with the Expert Sleepers ESX range of expanders.
The ESX-8CV CV Expander (£130.80) is an expansion module for the ES-4, ES-40 or ES-5, adding eight CV outputs from one expansion header.
The ESX-8GT mk2 Gate Expander (£54) is an expansion module for the ES-4, ES-40 or ES-5, adding 8 on/off outputs for use as gates, triggers, clocks etc. from one expansion header.
All modules are available to purchase immediately.
More information: Expert Sleepers