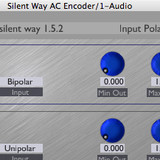 Expert Sleepers has released version 1.5.2 of Silent Way, a suite of plug-ins designed for use with analogue synthesisers, and especially as part of a modular analogue synthesiser system.
A new plug-in has been added to the suite: Silent Way AC Encoder.
Silent Way AC Encoder removes the need for a DC coupled audio interface (common to Silent Way and all other software that generates CVs) and lets you use Silent Way with almost any audio interface. The two requirements are

your interface must have balanced outputs (almost all do).
you need to make some special cables.

The cables are a very simple job, well within the scope of anyone with basic soldering skills.
Silent Way is available to purchase for PC and Mac (VST/AU) for $49 USD, plus VAT if applicable.
More information: Expert Sleepers / Silent Way