Expert Sleepers has updated its Silent Way plug-in suite for modular analogue synthesizer systems.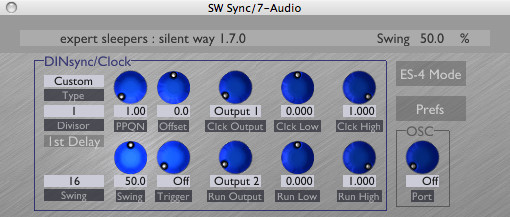 Changes in Silent Way v1.7.0
A new plug-in, Silent Way Sync, is added to the suite. This takes the DIN sync generator from the ES-4 Controller plug-in and expands on it to become a general purpose clock/trigger/sync plug-in.
Fixes various issues with parameter automation and GUI updates.
Fixes the ES-4 Controller plug-in's response to MIDI channels (previously it would respond to messages on any and all MIDI channels) and adds a 'Channelise' capability to the MIDI Out section.
Silent Way for Windows and Mac is available to purchase for $49 USD plus VAT if applicable.
More information: Expert Sleepers / Silent Way