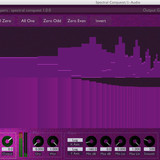 Expert Sleepers has released version 1.0.1 of Spectral Conquest, an effect plug-in that lets you directly manipulate the frequency spectrum of audio signals.
The incoming signal is analysed via a FFT (Fast Fourier Transform), resulting in the familiar spectrum plot where the full audio spectrum is split into a number of narrow frequency bands. The outgoing audio is then regenerated by an Inverse FFT. The interesting bit is that the plug-in lets you modify the frequency spectrum in between.
Changes in Spectral Conquest v1.0.1
Improvements to the interactive painting of dense spectral data.
(VST versions) Fixed issues with slow GUI updates when running scripts or painting spectral data.
Spectral Conquest is available to purchase as an effect plug-in for Windows and Mac (VST/AU) for $29 USD. The plug-in is also available as part of the Ultimate Bundle for $155 USD, and the Creative Effects Bundle for $55 USD.
More information: Expert Sleepers / Spectral Conquest