Expressive E has introduced Touché SE, an expressive instrument that allows you to control the sound of your synthesizers with the pressure of your hand.
While the original Touché has internal memory and can be used standalone, the smaller, USB-only Touché SE controller must be connected to a computer to function and does not have physical MIDI In/Out and CV Output ports on the rear.
Touché SE is the smaller brother of the Touché (released last year) in an more affordable USB-only version. Touché SE works with a software package with over 200 sounds (UVI Workstation instrument, included). These sounds are mapped to take full advantage of the hardware, ready to play right after installation.
Touché SE, (like Touché), features four degrees of movement (Push Top Down, Push Bottom Down, Shift Left, Shift Right). Users can map up to eight plug-in parameters to each axis of movement, and fine tune the range/degree of control per mapping, allowing one sweeping movement to cause massive timbral shifts over a huge range of parameters.
As with any MIDI controller, users can record and replay these gestures with their DAW, and users can call up as many instances of the Lié software as their computer can handle.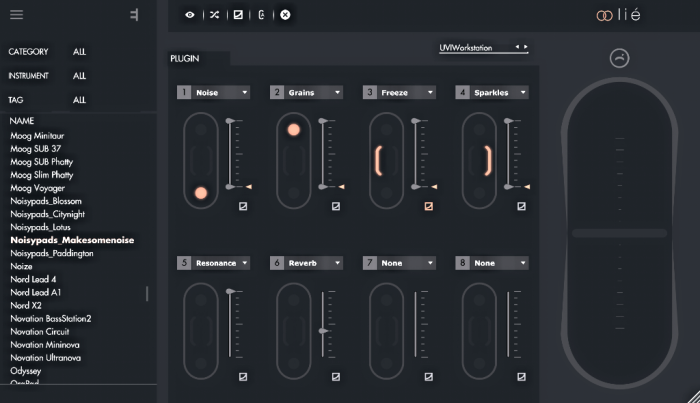 Touché's control software, Lié also hosts third-party instruments, allowing the user to take advantage of the multi-dimensional nature of the hardware with their existing software instruments. Lié works both standalone, or is itself compatible with any popular DAW that supports VST or AU plug-ins.
The Touché SE is available for 229 USD/EUR ex. VAT where applicable.
More information: Expressive E