F9 Audio has launched 21st Century Soul, the second instalment in its no-compromise series of sample packs for the producer seeking the most professional and comprehensive set of tools available.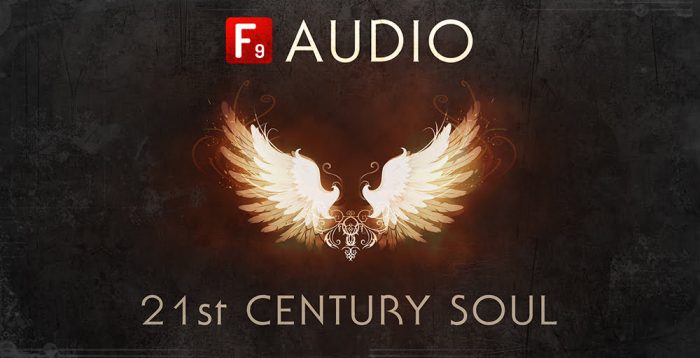 In the post-EDM world one sound has been pouring out of the world's headphones and radio speakers: SOUL. Today's producers are taking the sounds and chordal shapes of the past and fusing them with the production values and sonics of the future.

You hear it in the Toronto Hip Hop that's taken over the worlds charts. You hear it in the gravely gospel-drenched vocals of the likes of Rag and Bone man or the Neo-retro sound of Jorja Smith, Frank Ocean and John Legend. Soul is everywhere and is a welcome return to rich complex chords after the Stadium triads and Rock-esque powerchords that have dominated electronica over the last 10 years.

Before we created this immense pack we asked ourselves – What we would personally want from '21st Century Soul'? The answer was simple: Big fat musical hooks and plenty of them laced with Beats that just work. For decades Vintage Soul has been plundered by the very finest Hip Hop producers, but now sampling original vinyl is just not financially viable for 99% of recording artists.

Just a brief glance of the specs below will illustrate the countless hooks, riffs and melodies in this pack but we also have some brand new concepts: . Maxi riffs – Huge soulful motifs played on multiple instruments live by top-drawer musicians that are just crying out to be plundered. Inspiration loops – Try one of these multi instrument mini-productions for instant gratification in your beat. Resampled Loops – Once we finished we just chopped parts up and started again – Unique and incredibly forward thinking. Throughout the pack and wherever possible Midi Files are available

But soul is nothing without the Drums right? This pack hits the spot perfectly and gives you everything you need from Heartbroken 808s to Multi-layered drum productions alongside Future Retro Drum parts mixed with exceptional modern bite. All of these are set against perfectly processed Acoustic recordings

We're always looking to make soundware more useful and here we present : Mini Stems & Loops in 1 pack – How many times have you purchased a pack with everything normalised then struggled to get all the beat loops to work with each other. Inside this pack are are a clutch of drum stem sets (17 deluxe – 13 Standard) that give you a near perfect launchpad. The stems are drag and drop and are mixed to work perfectly together and are never over processed so you can add your own sonic stamp. Normal Loops are of course also available of every single part (and more).
The sample pack is available from Loopmasters in a 4GB Standard Edition for £29.95 GBP, and a 5GB Deluxe Edition for £34.95 GBP.
More information: F9 Audio