F9 Audio has launched Freemasons House Keys + Stems, an collection of highly musical royalty free piano, keyboard, synth and bass parts carefully produced, engineered and mixed by the Freemasons.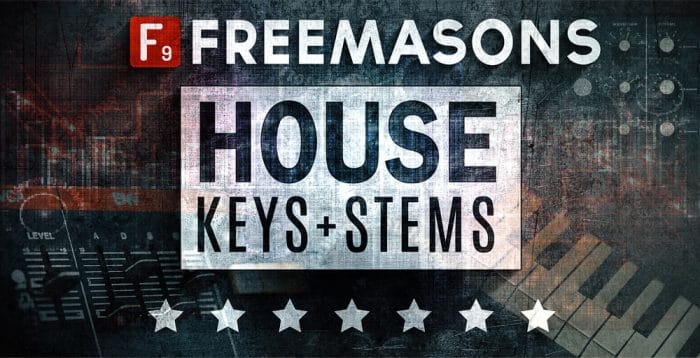 From The dirty and raw oscillators of Vintage Equipment to the finest examples of the worlds best modern Synth Software we have created a pack that contains endless hooks, chord sequences, melodies and baselines from the delicate to the down right dirty . We played the Studio's Jupiter 8 through a Neve 1081 pre amp and Eq , Re-amped Synths pianos parts through SSL and GML Hardware , slammed Moogs and Juno 60's through Thermonic Culture Valves then dug into the software and created truly musical hybrid parts that are crying out to become hooks for your next production.

We encourage you to Grab the Audio + dive in – Loop, Chop, abuse and filter these Chord sequences, find those magical 1 bar loops from our 8 bar sections safe in the knowledge that you do so with our blessing and free from additional payments. These really are the Samples of the future.

As always with F9 Audio these are not 1 or 2 bar loops created in isolation. Everything was created within the context of a track and processed carefully so it can slot into a modern production almost instantly. Coming from a studio that has topped the UK and Billboard Club charts countless times this is audio you can truly trust to work in a modern Electronic production. The F9 system allows easy integration of any of our label's packs, The parts are played in the Keys D, F, A and C minor ( with the odd excision to G min ) meaning there is always material a few clicks away from any Key you may be working in.
The sample pack is available for purchase for £29.95 GBP, with individual parts also sold separately.
More information: F9 Audio