F9 Audio has launched Minneapolis Funk, a sample pack featuring the sounds of the funk of Minneapolis.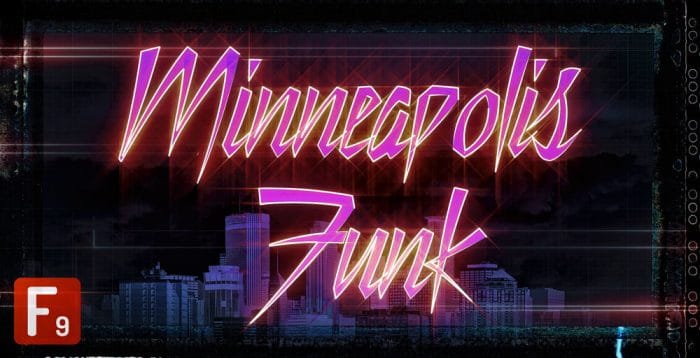 The Minneapolis sound relied on one thing: The Players. For this incredible pack we enlisted the help of one of the finest (and funniest) bass players alive today: Guy Pratt. To hear his work listen to Madonna's 'Like a prayer' or Michael Jackson's 'Earth Song'. He is one of the only bass players ever hired by Bernard Edwards of Chic to play bass and knows every funk move in the book. Not only that he can knock out the very finest in Funky Guitar parts.

For this recording we went back to basics' – Only Synths available at the time were used (Jupiters , Super Jupiters, Prophets , Oberhiems etc) and everything went through thousands of pounds of on-genre Neve SSl and GML pre amps , Eq's and compressors. Original Beatboxes such as the Linns, 808, Simmons all used by the Minneapolis artists were sampled and careful processed to get just the right future retro approach for inclusion in modern productions

Guy's Beloved 1963 Fender Jazz bass "Betsy' was recorded through a Neve 1081 pre, a very odd Ukranian Valve Compressor (HCL) and the High end GML 8900 Dynamic gain controller resulting in a sound that bites and sings the incredible bass-lines created for this collection.

The result is Stunning – Imagine having access to original multitrack sections of Minneapolis sessions as well as royalty free access to the master tapes. Each piece is available as a mastered 2 track in a variety of forms (full, section by section, Drums only – and all music with no drums). Then split into every single component part – We've kept the keys pretty much the same between the two tempos in this volume (116 and 110 Bpm) so many parts can be combined from the different pieces.
Minneapolis Funk features
2.8 GB content, 24-bit quality.
404 audio loops.
5 impulse responses.
35 soft sampler patches for Ableton Sampler, EXS24, Halion, Kontakt5 (with custom interface), NNXT & Structure.
6 Riffmatic bass patches.
5 Riffmatic guitar patches.
12 Riffmatic key patches.
23 vintage kick drums.
36 80's snare drums.
52 clap sounds.
35 perc Sounds.
12 multi-tracks (master sections and stems).
The sample pack is available for purchase for £29.95 GBP.
More information: F9 Audio