FabFilter has announced that FabFilter Pro-Q 3, released last year to widespread critical acclaim as a major update to its long-established equalizer plugin, has won an Engineering Emmy Award from The Television Academy.
The award honors individuals, companies, or organizations for engineering developments that considerably improve existing methods or innovations that materially affect the transmission, recording, or reception of television.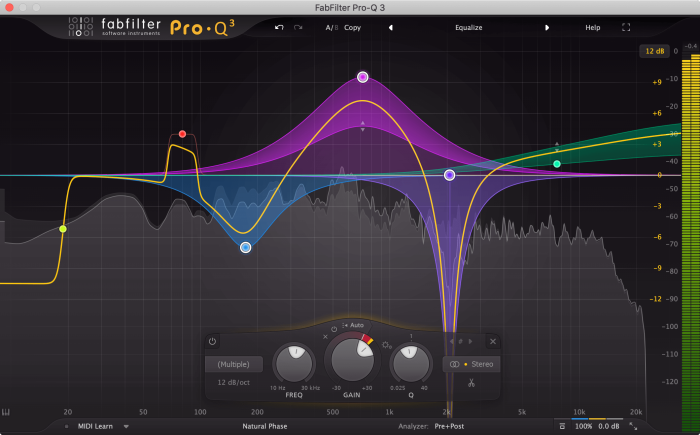 The Amsterdam-based company itself is honored to be a recipient of such an award; after all, this perfectly fits FabFilter's philosophy for creating powerful audio plug-ins with superb sound quality and innovative interfaces.
Indeed, Pro-Q 3 improves on its predecessor in every area, introducing integrated dynamic EQ, surround support, new filter types, improved spectrum analyzer and Spectrum Grab, and much more, while maintaining the pristine sound quality and exceptional ease of use for which Pro-Q has always been known.
According to The Television Academy,
"On a professional mixing stage, the FabFilter Pro-Q 3 processes the broad range of frequencies lumped together in the home stereo tuner's treble and bass controls into 24 bands of dynamic frequency EQ to create an audio problem-solving tool with surgical precision and sonic clarity. Additionally, the Pro-Q 3 provides brick wall filters, per-band mid/side processing, and support for immersive formats to handle any equalization task with ease and speed. The Pro-Q 3 has become the preferred equalizer for mixing professionals around the world."
Worldwide, Pro-Q 3 has been on the receiving end of an array of positive press plaudits, as well as finding favor with well respected GRAMMY Award winners, such as engineer Jeff Ellis; mixer and engineer Damian Lewis; and mix engineer Dave Pensado, who sings its praises thus: "FabFilter Pro-Q has one of the best GUIs of any EQ out there and sonically compares to the best."
The Television Academy agrees with such sentiment, clearly, choosing to honor FabFilter with an Engineering Emmy Award, which will be presented at the prestigious 71st Engineering Emmy Awards to be held at the JW Marriott Hotel, Los Angeles, California on October 23rd, 2019.
FabFilter Pro-Q 3 is available for 149 EUR / $179 USD / £134 GBP from FabFilter and distributor Plugin Boutique. It supports both Windows and macOS in VST and VST 3, AU, AAX, and AudioSuite plugin formats.
Bundles with FabFilter Pro-Q 3 and other FabFilter plugins are also and existing FabFilter customers can purchase or upgrade to FabFilter Pro-Q 3 with attractive discounts.