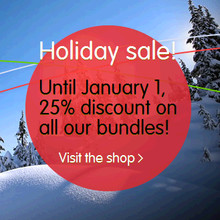 FabFilter has released minor updates for all plug-ins, which solve various small issues that have surfaced after the last general update release in November.
In addition, FabFilter announces a holiday bundle sale running until January 1, offering 25% discount on all plug-in bundles in the online FabFilter shop.
Changes in FabFilter plugins
Fixed incorrect MIDI message handling in the AAX plug-ins on Mac OS X: this could cause unexpected parameter changes when starting/stopping playback in Pro Tools.
In FabFilter Pro-Q, fixed a bug that caused the Auto-Adjust Display Range feature not to work when dragging curves with the High Cut or Low Cut filter type.
Added a workaround in the Mac OS X VST plug-ins to ensure resizing works correctly in Ableton Live 8.
Added a workaround in the VST 2 plug-ins to ensure preset changes and parameter changes are correctly saved in Maschine by Native Instruments.
Fixed possible crash when removing the VST 2 or VST 3 plug-ins on Mac OS X while the interface is open, for example in Studio One.
Fixed white flash and some other graphical glitches when resizing the plug-in interfaces on Mac OS X (all plug-in formats).
Fixed bug that could cause the interfaces not to appear at all in some hosts on Mac OS X, for example Triumph.
Minor improvements and bug fixes on both Windows and Mac OS X.
The updated plug-ins are fully compatible with previous versions, and free for existing FabFilter customers. The latest versions and 30-day trials are available for download now at www.fabfilter.com/download.
More information: FabFilter