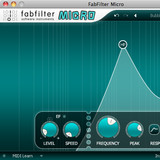 FabFilter has announced the release of Micro, a new lightweight filter plug-in that makes the classic FabFilter sound more affordable than ever.
Featuring the classic filter first developed for the FabFilter One synthesizer with low-pass and high-pass filter shapes, it will be no surprise that FabFilter Micro has a smooth and creamy sound that will turn into raw self-oscillating madness at a flick of the Peak knob. Yet even at full resonance, the filter always maintains an analog-like balance, happily saturating and clipping the incoming sound without exhibiting the digital artifacts and impurities that most other filters suffer from.

The built-in envelope follower offers more creative filter effects by letting you modulate the filter cut-off frequency depending on the amplitude of the incoming signal. Furthermore, the separate input and output gain controls make it easy to amplify or reduce the internal filter saturation at will by adjusting the level of the incoming signal before it hits the filter internals.

Naturally, FabFilter Micro contains all those FabFilter goodies that you've come to expect: perfectly fine-tuned knobs and controllers, interactive MIDI Learn, undo/redo and A/B switch, Smart Parameter Interpolation for smooth parameter transitions, an extensive help file with interactive help hints, sample accurate automation, and AltiVec and SSE optimization.
FabFilter Micro is available to purchase for PC and Mac (VST/AU/RTAS) for 15 EUR/$22 USD/£14 GBP. Bundles with FabFilter Micro and other FabFilter plug-ins are also available.
Existing FabFilter customers can purchase FabFilter Micro with a discount by logging in to their online user account.