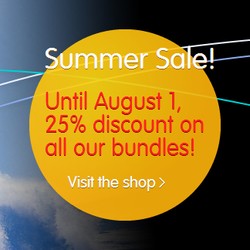 FabFilter has announced the launch of its Summer Sale, offering 25% discount on all plug-in bundles.
Until August 1, we are running a Summer Sale in the online FabFilter web shop, offering 25% discount on all plug-in bundles! In addition, if you already own one or more FabFilter plug-ins, your online FabFilter account* also offers an extra discount during the Summer Sale.

Don't miss out on this chance to complete your FabFilter collection, or recommend FabFilter plug-ins to a friend!
FabFilter has also announced bug-fix updates for all its plug-ins.
We have just released minor updates for all plug-ins, which solve a couple of small issues that have surfaced after the last update release in June.
Changes in FabFilter plug-ins
Fixed a bug that could cause typed parameter values to be rounded incorrectly, e.g. when double-clicking to enter a frequency value in FabFilter Pro-Q.
Fixed a bug in all AAX plug-ins: after deactivating a bypassed plug-in in Pro Tools, the state of the bypass parameter would not be restored correctly on reactivation.
Fixed a bug in the AAX version of FabFilter Twin 2 that caused the external side chain input not to work in Pro Tools.
The updates are fully compatible with previous versions, and free for existing FabFilter customers.
More information: FabFilter