Fred Anton Corvest has released version 1.1 of FAC Chorus, a versatile chorus effect emulation designed to simulate the characteristics of the classic chorus modules with the flexibility of customizing the parameters of the main components involved in the signal path.
This update includes bigger widgets and improved visual feedback. The UI remains clear, responsive and consistent across all devices (no tiny scaling), even on an iPhone 5s in landscape mode.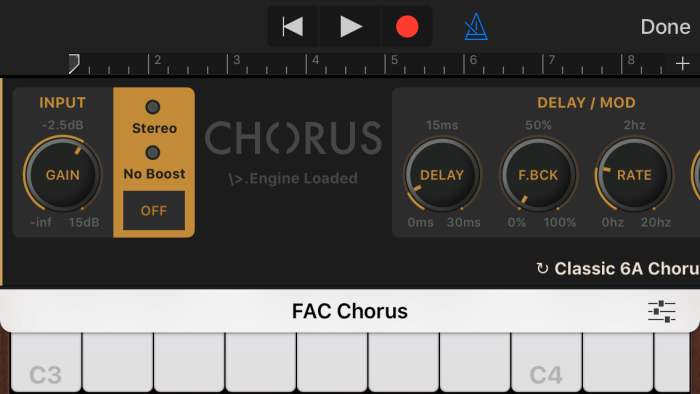 The effect is built upon two individual delay line paths controlled by common parameters. The behaviour of each delay signal path is defined by the chorus type parameter. Thick type means warm characters and emulates the behaviour of the BBD. Clean type, as the name says, provides a cleaner sound with a larger modulation.

FAC Chorus is suitable for any situation requiring chorus effects and can go from subtle to drastic changes, the factory presets provide an overview of the sonic panel you can obtain.
Changes in FAC Chorus v1.1
Addition of a bigger value display to track the current changes.
Improvement of the knobs: addition of a trail following the needle.
Bigger fonts size.
Fix some typo.
Fix centering of the main view in the host application (iPad Pro 12.9 inch).
FAC Chorus is available for purchase for 3.49 EUR.
More information: Fred Anton Corvest